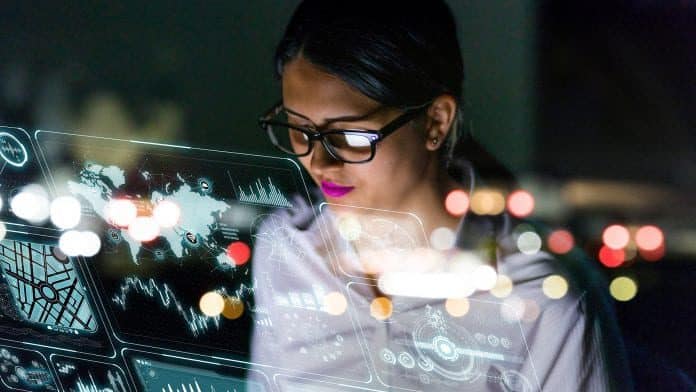 Women are exceeding expectations as they continue to spur innovations around artificial intelligence and machine learning in Canada. The country's dominance in the AI space is drawing attention having become a hotspot for research around the merging technology. Development of AI has also given rise to investment opportunities in the form of Shopify Inc. (TSE:SHOP) and Kinaxis Inc. (TSE:KXS) that continue to provide great exposure to the revolutionary technology.
Women in AI
Preeti Adhikary, Vice President of Marketing at Fusemachines Inc., is one of the women that have made a name for her in the burgeoning AI space. Enhancing artificial intelligence awareness is Adhikary focus, as Fusemachines seeks to democratize Artificial Intelligence.
Fusemachines is currently leveraging artificial intelligence to enhance service delivery in a wide array of industries from healthcare to food delivery as well as transportation. The firm has already developed a proprietary AI platform dubbed fuse.ai for educating thousands of students around the world about AI.
Fusemachines is seeking to change the perception that artificial intelligence is a preserve for men or tech-savvy personalities. Getting more girls to have an idea of what AI is all about at an early age is the programs main objective. According to Adhikary, the world would be much better with more girls and women jostling for opportunities and careers around AI technology.
Joelle Pineau, Director Facebook Inc. (NASDAQ:FB) AI Research & McGill is another lady shaping Canadian AI landscape. She has made a name for herself on the development of new models as well as algorithms for shaping robots and machines behavior, to make it easy for them to respond to human needs.
Women are also playing a pivotal role in the development and evolution of the self-driving technology that leverages artificial intelligence. Raquel Urtasun, a professor at the Department of Computer Science at the University of Toronto, is one such woman that is spearheading innovation around self-driving technology at Uber.
Raquel has carried out extensive research on machine learning as well as remote sensing robotics and computer vision. Her role at one of the biggest tech companies in the world affirms the strong female representation around AI.
Women must equip themselves with new skill sets if they are to survive a potential onslaught in the job market because of automation and now technology. Doina Precup is one such woman that is seeking to foster diversity and inclusion through AI projects.
As the head of Deepmind at McGill University, Precup is currently training the next generation of machine learning researchers at Montreal Institute for learning algorithms. She is also a senior member of at the America Association for Artificial Intelligence.
 Investment opportunities
Ottawa based Shopify is one of the best plays for gaining exposure to Canada's AI landscape, as women continue to spur innovation. The stock is already up by more than 40% for the year. The spike comes at a time when the company is increasingly using AI in its app and theme store to help in fraud detection as well as reduction of costs.
Kinaxis, on the other hand, has surged 12% on revealing plans to use AI to help detect trends in operational data. The use of AI could help the company enhance supply chain efficiencies for companies using its software.