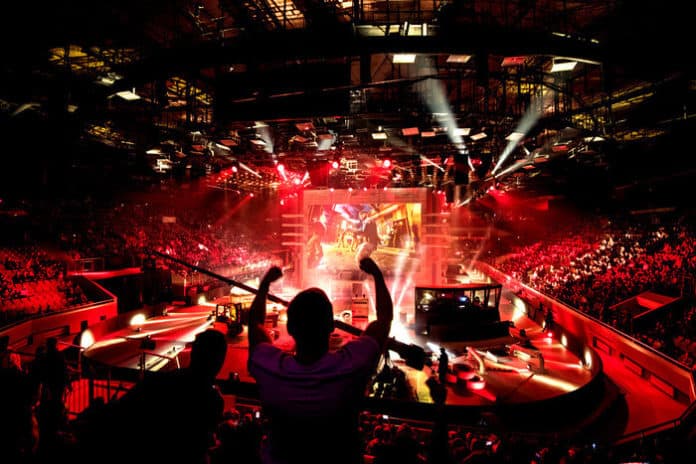 Montreal is now home to first of its kind state-of-the-art eSports complex. Located on the second floor at the 1231 Ste. Catherine Street West, the 14,000 sq. /ft. Esports Central is the new eSports hub taking the city by storm. The opening of the eSports center comes at a time when eSports led by the likes of Axion Ventures Inc. (CVE:AXV) Enthusiast Gaming Holdings Inc. (CVE:EGLX), Victory Square Technologies Inc. (CNSX:VST) are flying high.
eSports Central
Opened to both players and fans, the center boasts of 94 top of the line PCs, 25 consoles as well as six D-Box racing simulators and a one of a kind Omni VR section. In addition to acting as a hub for competitive electronic sports, eSports Central is positioning itself as the palace where gamers and non-gamers can hang around. A fully licensed rest-bar and sprawling lounge are on offer in addition to a shopping section.
"We have from A to Z — the father that wants to have fun with his son, to the gamer that's looking to play with his friends, to the hardcore Esports player that wants to do a tournament," said Anthony Cite,
Esports Central has already hosted its first major tournament bringing together hundreds of amateur and eSports enthusiasts. The Red Bull one-on-one tournament allowed both professional and semi-professional players to battle it out for prize money of as much as $1,000.
Gaming is slowly becoming a big business in Canada, having emerged as a big employer with openings for game designers, producers, and programmers. The gaming industry contributes as much as $3.7 billion to the country's GDP.
The opening of the eSports center marks an important milestone in Montreal's gaming history. The city boasts one of the fastest growing industries. A score of video game developers led by the likes of Ubisoft, Gameloft, and Eidos have already set shop in the city.
The country is slowly stepping it up as it seeks to become a powerhouse on eSports. Recent studies have shown that 1 in 2 Canadians believe that professional eSports gaming offers realistic employment opportunities.
It thus does not come as a surprise that gaming companies led by the like soft Axion Ventures, Enthusiast Gaming Holdings, and Contagious Gaming are eliciting keen interest as they make inroads into eSports.
Investors are increasingly looking at these stocks as electronic sports industry continues to grow at an impressive rate. The sector brought in a whopping $865 million in 2018 projected to surpass the $1.8 billion mark in revenue by 2022.
Canadian eSports Stocks
While eSports remains dominated by big names such as Tencent Holdings and Sony, smaller players are slowly pushing for market share with exciting innovations. Axion Ventures, for instance, has just launched two video games as it continues to push for credibility and market share in eSports.
Enthusiasts Gaming Holdings with over 75 million monthly active users and 80 gaming content also remain well positioned to generate significant value in the burgeoning eSports sector. The Company is in the process of launching its own eSports tournament, and entertainment as the race for revenues heats up.
Victory Square Technologies has also set sights on the eSports spectacle with an array of investments targeting early-stage startups. The company has already set up a $10 million seed fund targeting investment in esports and video game ventures.