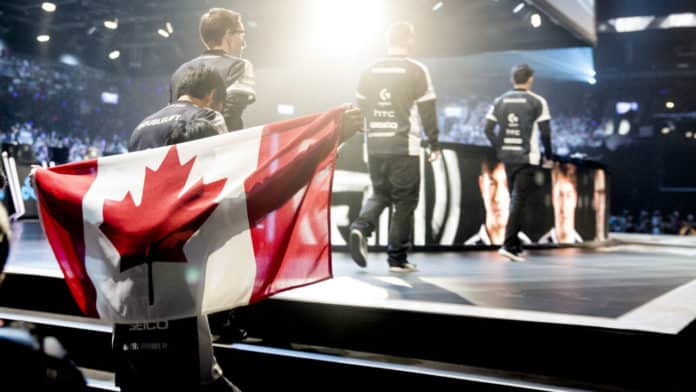 eSports is taking the world by storm in the burgeoning $140 billion gaming industry. People turning up in numbers in designated locations to watch professional gamers play is the latest phenomenon. Amidst the emerging vertical, Axion Ventures Inc. (CVE:AXV), Enthusiast Gaming Holdings Inc. (CVE: EGLX), and Versus Systems Inc. (CNSX:VS) presenting unique investment opportunities.
 eSports Growing Phenomenon
Canadians becoming increasingly, drawn to eSports has also given rise to opportunities that business owners are taking advantage of. The first eSports bar in Alberta is poised to open its doors in Calgary. Ram Cross located at the old Morgan's Pub at 1324 17th Ave is to play host to the city's first eSports bar providing an opportunity for fans to come and watch competitive gaming tournaments.
The eSports bar in Calgary will come with 18 high-end gaming PCs as well as fiber optic internet and screens, placed throughout where people can watch tournaments of their choice.
"If there's any big sports event, hockey game, soccer, we can still stream it on the larger screens. We don't want to disconnect from the old-fashioned 100 percent… so they can enjoy from both [sides], the old-fashioned and new-fashioned games," said Peyman Nejad, the president of Ram Cross esports.
While Alberta is, just getting started on eSports, the spectacle has taken over in the U.S as well as China and South Korea. The fact that people are willing to fork over $100 in tickets to watch professional gamers do their thing on a big screen, underscores how big the industry can become.
A report by research firm Newzoo indicating that esports will grow to a billion dollar industry on revenues this year explains why investors are increasingly turning to the sector in pursuit of investment opportunities. The fact that streams of some competitions are able to pull in millions of viewers means there is value to generate from the sector be it as a business owner or investor.
Top Canadian eSports Stocks
Axion Ventures remains well positioned to generate significant value as the esports spectacle takes over. The Company boasts of majority ownership in Axion Games, an online video game development company based in China. The company boasts of some big titles that look set to generate significant revenues with the growth of the esports phenomenon.
Enthusiast Gaming Holdings has also made a name for itself just like Axion ventures on the development and operation of global online video games. With over 75 million monthly active users and 80 gaming contents, it is one of the companies to watch out for, as esports becomes a multibillion-dollar industry.
Enthusiast Gaming Holdings is in the process of launching its own esports tournament, and entertainment series as the race for revenues in the sector heats up.
Versus Systems, unlike the other two, is not engaged in the development of games or esports tournaments. Instead, the company has developed a proprietary in-game prizing and promotion engine that game publishers and developers can use to offer prizes across a range of esports platforms.