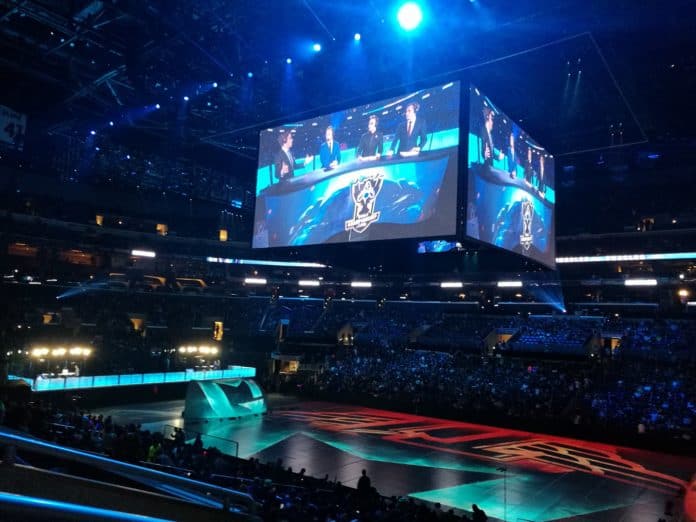 eSports is a hot topic in tech and entertainment, fuelling growth in the multibillion-dollar gaming industry.  The market for video games, as well as coverage of people playing games, has given rise to a burgeoning segment with revenues poised to reach highs of $1.8 billion by 2022.  Amidst the expected growth Enthusiast Gaming Holdings Inc. (TSE: EGLX) Torque Esports Corp (CVE: GAME) New Wave Esports Corp. (CSE:NWES) are some of the Canadian eSports that investors ought to pay close watch to.
Enthusiast Gaming eSports Advertising Prospects
Enthusiast Gaming Holdings Inc. (TSE: EGLX) stands ahead of the pack as one of the biggest beneficiaries of the burgeoning Canadian eSports sector.  The company owns and operates a network of websites tied to the eSports Spectacle. With over 80 gaming websites, $EGLX is poised to generate significant revenues as people flock to its websites to play and watch eSports games.
The websites already attract more than 75 million visitors every month, consequently attracting more than 12B ad requests per month. The ad requests underscore the amount of revenues #EGLX is poised to generate amidst the expected growth in eSports.
In addition, Enthusiasts Gaming operates one of the biggest gaming expo in Canada that attracts thousands of people annually. In 2018, the expo attracted 55,000 people. After recent pullback triggered by the COVID-19 fuelled market correction, the stock has once again started edging higher as a bounce-back play.
Torque eSports Prospects
Torque Esports Corp (CVE: GAME) is a must-watch in the burgeoning Canadian eSports segments amidst the turmoil triggered by the coronavirus pandemic. As a mobile gaming publisher, $GAME is focused on fusing eSports racing with professional motorsport through the global competition model.
Similarly, #GAME has carved a niche for itself on providing tournament platforms for direct challenge competitions in various eSports titles as well as eSports focused mobile applications. The company also uses its gaming franchises to engage millions of new players with the aim of becoming a leader in eSports racing.
Torque eSports has also carved a niche for itself in running and operating some of the biggest mobile applications tied to the eSports spectacle. Its service on this front include video production as well as promotions and streaming of eSports content. While the stock has taken a hit, the pullback is in line with the correction triggered by the coronavirus in the broader stock market.
New Wave eSports Diversification
New Wave Esports Corp. (CSE:NWES) eSports has diversified its operations in the eSports segment in pursuit of opportunities for growth. The Toronto based company currently provides capital as well as support services to eSports organizations as well as teams, leagues, and technology innovators.
In addition, $NWES is engaged in the development of software applications as well as technology solutions targeting operation in the burgeoning industry. The company has already shown it is ready to spend big in a bid to strengthen its prospects in the industry.
The acquisition of Talon Esports accords the company access to a professional eSports organization that has already won multiple championships across various gaming titles. Similarly, #NWES has announced plans to acquire Event Matchup Gaming, a leading eSports and competitive gaming organizer
While new wave has pulled lower following the Coronavirus triggered correction, it has what it takes to be a big player in the eSports segments and consequently generate long-term shareholder value?