How Tidal Royalty Corp. (CSE: RLTY.U)(OTC:TDRYF) Has Created The Perfect Opportunity to Invest in Cannabis Stocks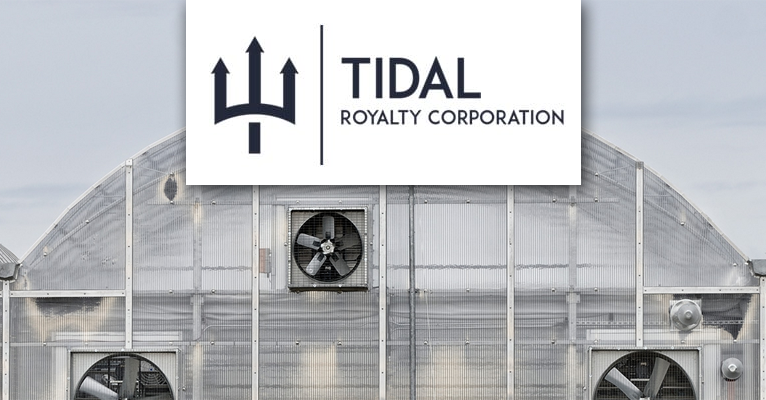 In a world increasingly defined by disruption and innovative technologies finding your next investment can be overwhelming. Despite the promise held by emergent technologies, the next big investment opportunity is coming from a humble plant that mankind has cultivated for centuries. Cannabis has finally emerged from the long shadow of the war on drugs and is taking its rightful place in the light.
From being a maligned illicit substance medical professionals across the world have begun to openly report on the health benefits of cannabis and its many derivatives. Indeed the CBD industry has been flourishing across America despite strict laws governing cannabis. This new market can seem a little daunting at first but thankfully American investors have the opportunity to learn from their neighbors to the North.
Canadian companies have been able to cultivate a thriving marijuana industry over the last year, a phenomenon that has only become more pronounced since the Canadian government announced that it was legalizing recreational marijuana. Investors are already jumping on these new opportunities and Canada has cemented a reputation as a center of the marijuana industry.
You might have missed the first marijuana boom but now the real opportunity is cresting the horizon. As American attitudes towards Marijuana change a thriving industry has begun to form. Tidal Royalty Corp. (CSE: RLTY.U)(OTC:TDRYF) is an American focused Canadian based company that seeks to leverage their in-depth market knowledge to take advantage of the incredible opportunities that will arise over the coming years.
The Potential Of The American Marijuana Market Is Limitless
The Canadian market has already exploded to an impressive $31 billion in value but even this figure is dwarfed by the immense potential of the American market. Analysts at the investment bank Cowen estimate that sales in the US marijuana market could be as high as $75 billion by 2030.
The watershed moment came off the back of California's legalization of recreational marijuana. While a number of smaller states like Colorado had already taken the plunge the Californian vote held special significance. California is not just the most populous US state but also the world's sixth-largest economy. The new legislation marked the creation of an immense new industry within America's borders. Indeed on the day of legalization, there were already over 400 new licensed marijuana shops ready to begin trading.
A number of companies have already demonstrated the potential of the American Cannabis market.
Despite this promise, there are shadows hanging over the US marijuana industry. The first is the potential crackdown on cannabis spearheaded by Attorney General Jeff Sessions. There were initial fears that the move could lead to a collapse of the young market but thankfully the opposite appears to be the case. The announcement that he was rescinding the Cole Memo caused an initial panic that was quickly followed by calm as the market bounced back.
These strict rules have led to a number of ancillary problems for businesses involved in the cannabis sector. The most acute of these is the inability to access traditional banking facilities. This has forced marijuana businesses to operate on a broadly cash basis which has left them vulnerable to fraud and theft. Banks have long been worried of falling foul of federal regulations and are wary of offering services to marijuana companies.
Despite these problems the cannabis sector in America is rising at an unprecedented rate. American ingenuity has already laid the groundwork for new businesses outside of recreational marijuana and Tidal Royalty Corp. (CSE: RLTY.U)(OTC:TDRYF) has tested industry knowledge from Canada in order to help them to succeed.
A Royalty Based Model Provides Opportunities For Cannabis Entrepreneurs
Tidal Royalty Corp. (CSE: RLTY.U)(OTC:TDRYF) has already been through the trenches in Canada and has first-hand knowledge in how to ensure that a Cannabis Sector company succeeds. Their team has built, led and advised some of the most iconic cannabis businesses in Canada and across the world.
Their groundbreaking royalty based model provides cannabis entrepreneurs with non-dilutive capital and knowledge on uniquely entrepreneur-friendly terms. Over the course of 2018 Tidal Royalty Corp representatives have been meeting with more than 100  licensed cannabis operators across the United States. They have carefully vetted these enterprises and have already drafted letters of intent for the most promising prospects.
On July 3rd, 2018 Tidal Royalty Corp. announced that it had entered into an agreement with an Oregon licensed operator to finance the company's expansion into the Massachusetts market.

On the 5th of July they also entered into an agreement with a licensed operator based in Monterey, California to help finance the expansion of their operations in that state, the company already has 240,000 sq. ft. of commercial greenhouse space.

On the 9th of July, Tidal Royalty Corp. announced that it had entered into a letter of agreement with an established licensed operator based in Las Vegas, Nevada, to finance the expansion of that company's operations.

These announcements are just a small taste of the opportunities that Tidal Royalty Corporation already has in the pipeline. Their model is particularly attractive to companies because it is completely non-dilutionary. Instead, the company agrees to receive a percentage of net sales, 15% in the case of an Illinois distributor, occasionally the company will also purchase common shares.
Their non-dilutive model is already instrumental in attracted best of breed companies in the Cannabis field but Tidal Royalty Corp. (CSE: RLTY.U)(OTC:TDRYF) has another ace up their sleeve.
Tidal Royalty Corporation Utilizes The Knowledge Of Canada's Top Cannabis Entrepreneurs and Experts
Tidal Royalty Corp. (CSE: RLTY.U)(OTC:TDRYF) is able to access one of the most talented pools of knowledge in the cannabis industry today. The executive team are all veterans of the difficult cannabis market and represents some of the greatest minds in the sector.
Paul Rosen – CEO & Chairman
Paul is a career entrepreneur and management consultant. Over the last five years he has become one of Canada's most active and diversified investors in the emerging Cannabis industry. He is the founder and Managing Director of BreakWater Venture Capital, a private venture capital fund and advisory firm based in Toronto. He is also a co-founder of The Cronos Group (CRON:NASDAQ, CRON.V) and served as its President and CEO for three years. While Paul was CEO he managed to increase the market cap of CRON to C$1.6 billion an increase of 2,800% over two years. Paul sits on the board and chairs the audit committee of iAnthus Capital Holdings (IAN.C). He also acts as a key advisor to several companies in the Cannabis sector.
Terry Taouss – President
Terry is an entrepreneur with operational experience scaling fast-growing businesses. Terry was part of the founding management team at SiteScout, an advertising technology company that he helped build from the ground up until its successful acquisition in 2013. Terry oversaw all of finance, legal, and corporate development functions. Terry then served as the managing director of Centro Canada and as a member of their executive team, where he helped guide the company's broader strategy as well as dealing with the guts of day to day strategy, product marketing and sales.
Hugo Alves – Advisor
President & Director, Auxly Cannabis Group
Hugo is known as Canada's leading advisor in the cannabis industry, having represented a variety of global industry participants, including licensed producers, licensed producer applicants, licensed dealers, e-commerce platforms, seed-to-sale software developers, design and build firms, patient aggregators, equipment manufacturers and distributors, and cannabis branding companies. Hugo has acted as lead counsel or played a key role in a wide variety of transactions since the inception of the cannabis industry in Canada and is widely regarded as a Canadian cannabis industry pioneer.
Marc Lustig – Advisor
CEO, CannaRoyalty
Mr. Lustig holds MSc and MBA degrees from McGill University. He began his professional career in the pharmaceutical industry at Merck & Co. In 2000, he started his capital markets career in institutional equity research in the Life Sciences sector at Orion Securities. For the next 14 years, Mr. Lustig worked as a senior producer at GMP Securities L.P. and as Head of Capital Markets at Dundee Capital Markets before becoming Principal at KES 7 Capital. Mr. Lustig founded CannaRoyalty Corp. in early 2015.
Tidal Royalty Represents a Unique Opportunity To Invest In The Cannabis Market
The beauty of Tidal Royalty Corp.'s (CSE: RLTY.U)(OTC:TDRYF) model is that it attracts the most promising future stars of the cannabis industry, giving retail investors access to a well-balanced portfolio.
In the past retail investors were forced to take the lion's share of the risk, investing in just a hand full of enterprises. Not only does this involve a head-spinning amount of investment in time but it leaves investors vulnerable to unexpected market shifts. Even the best idea can be foiled by external circumstance.
By investing in Tidal Royalty Corp. (CSE: RLTY.U)(OTC:TDRYF) retail investors are able to invest with the knowledge that their portfolio has been pre-vetted by some of the top minds in the sector. They are also able to benefit from a highly diverse portfolio of best in breed companies that may well represent the future unicorns of the cannabis sector.
Indeed many of the offerings in Tidal Royalty Corp.'s portfolio would ordinarily be unavailable to retail investors. For the first time, they will have the opportunity to invest in some of the most promising companies in the United States in one of the fastest growing global markets.
The final advantage that Tidal Royalty Corp. (CSE: RLTY.U)(OTC:TDRYF) offers investors is access to easier liquidation options. Ordinarily, an investor might have to wait years before they see any returns. With Tidal Royalty Corp. investors will have access to faster liquidity thanks to Tidal's unique royalty based investment option.
The American cannabis sector is on the brink of becoming something incredible. By leveraging the experience of companies like Tidal Royalty Corp. American operators will be able to combine the sheer size and ingenuity of the American market with the hard-won knowledge of their northern neighbors.
Tidal Royalty Corp. (CSE: RLTY.U)(OTC:TDRYF) represents a unique reward for early investors to reap the rewards of this market that is literally brimming with potential. They have gathered a portfolio of the most promising companies in this brave new frontier. There is no better moment than now to join them on their incredible journey.
Awesome company right?
Now's your chance to subscribe to stay up to speed with Tidal Royalty Corp.
---

Disclaimer: 
This financial news and information portal (moneynewsnational.com), and/or our newsletters contain commercial advertisements, and are for general entertainment purposes only. Along with the aggregation of timely financial news, we are engaged in the business of analyzing, marketing and advertising companies for monetary compensation. Unless otherwise stated below, the paying Third Party for our services may own shares and may liquidate them during any and all advertising periods. This disclaimer is to be read and fully understood before using moneynewsnational.com, or joining one of our newsletter lists. We also encourage you to read the SEC INVESTOR ALERT before reading content found on moneynewsnational.com and/or our newsletters. You are reading content found on our financial news and informational portal because you have clicked on an advertisement found on one of many marketing channels we advertise on. moneynewsnational.com is for entertainment purposes only. We are NOT a source of unbiased information. Never invest in any stock featured on our site or newsletters unless you can afford to lose your entire investment. None of the materials or advertisements herein constitute offers or solicitations to purchase or sell securities of the companies profiled on the website/newsletter and any decision to invest in any such company or other financial decisions should not be made based upon the information provide herein. Instead, moneynewsnational.com strongly urges you to supplement the information obtained from this website/newsletter with a complete and independent investigation of the companies discussed and a consideration of all pertinent risks. Investing in securities, including the securities of the companies profiled or discussed on this website/newsletter, is highly speculative and carries a high degree of risk. It is possible that an investor's investment may be lost or impaired due to the speculative nature of the companies discussed. The information found on moneynewsnational.com, and/or our newsletters are based on sources, which we believe to be reliable, but are not guaranteed by us as being accurate and do not purport to be a complete statement or summary of the available data. moneynewsnational.com encourages readers and investors to supplement the information found on our site or in our newsletters with independent research and other professional advice. All information on featured companies is provided by the companies profiled through their website, news releases, and corporate filings, or is available from public sources. moneynewsnational.com makes no representations, warranties or guarantees as to the accuracy or completeness of the disclosure by the featured companies None of the owners of moneynewsnational.com, or any of its directors, officers, employees, contractors, or affiliates is a licensed broker-dealer, account representative, market maker, investment banker, investment advisor, analyst or underwriter in any jurisdiction whatsoever. moneynewsnational.com does not offer such advice or analysis, and moneynewsnational.com further urges you to consult your own independent tax, business, financial and investment advisors before purchasing or selling any securities of the companies discussed on this website/newsletter. Compensation: moneynewsnational.com may be compensated for up to forty thousand CAD via bank wire by Whoa Is Media, Inc. for continuous analyzing, marketing and advertising services. moneynewsnational.com does not own any shares of any featured company. Whoa Is Media, Inc. may own shares and may sell all, any or none of any shares held in any featured company during advertisement periods, which may negatively affect the featured company's stock price. This compensation constitutes a conflict of interest as to our ability to remain objective in our communication regarding the featured company. moneynewsnational.com and its employees, contractors, officers, directors, or affiliates may purchase shares on the open market of any mentioned featured company during advertisement periods and following the dissemination of any newsletters. This is an inherent conflict of interest. The services provided by this website/newsletter and its contents are provided "as is" and moneynewsnational.com makes no representations or warranties of any kind with respect to this website/newsletter, its contents or its services. This website/newsletter has been prepared solely for the purpose of providing information about moneynewsnational.com and the services it offers. This website/newsletter has been compiled in good faith by moneynewsnational.com. moneynewsnational.com assumes no liability or responsibility for any errors or omissions in the content of this website/newsletter, any failures, delays, or interruptions in its services or any content contained on this website/newsletter, any losses or damages arising from the use of the content provided on this website/newsletter, or any conduct by users of moneynewsnational.com's services. moneynewsnational.com reserves the right to add, modify or delete any information at this website/newsletter at any time. This website/newsletter may contain "forward-looking" information within the meaning of the Private Securities Litigation Reform Act of 1995. In accordance with the safe harbor provisions of this Act, statements contained herein that look forward in time that includes everything other than historical information, involve risks and uncertainties that may affect the companies' actual results. There can be no assurance that such statements will prove to be accurate and there are a number of important factors that could cause actual results to differ materially from those expressed in any forward-looking statements made in this report. Further specific financial information, filings, and disclosures as well as general investor information about the profiled companies, advice to investors and other investor resources are available at the Securities and Exchange Commission ("SEC") website www.sec.gov and the Financial Industry Regulatory Authority ("FINRA") website at www.finra.org. moneynewsnational.com undertakes no obligation to publicly update or revise any statements in this release, whether as a result of new information, future events, or otherwise. In addition to information about the company discussed, from time to time, this website/newsletter may contain the symbols of companies and/or news feeds or links to websites about companies that are not being discussed by us but are merely illustrative of certain activity in the stock market that we are highlighting (so-called hyperlinks to third party websites or access to third party content). Readers are advised that all links and access to these sites and content solely for informational purposes. moneynewsnational.com, its owners, directors, officers, employees, affiliates, and contractors are not responsible for errors and omissions nor does moneynewsnational.com control, endorse, or guarantee any content found in such sites or content. Any opinions expressed are subject to change without notice. It is also possible that the companies discussed on those sites may not have approved certain or any statements within the report. By accessing or viewing this website/newsletter, you agree that moneynewsnational.com, its owners, directors, officers, employees, affiliates and contractors are not responsible for any content, associated links, resources, or services associated with a third-party website. moneynewsnational.com uses third parties to disseminate information to subscribers. Although we take precautions to prevent others from obtaining our subscriber list, there is a risk that our subscriber list, through no wrong doing on our part, could end up in the hands of an unauthorized party and that subscribers will receive communications from unauthorized third parties. In no event shall moneynewsnational.com, its owners, directors, officers, employees, affiliates and contractors be liable (jointly or severally) for any special, incidental, indirect or consequential damages of any kind, or any damages whatsoever resulting from loss of use, data or profits, whether or not advised of the possibility of damage, and on any theory of liability, arising out of or in connection with this website/newsletter. You agree to hold moneynewsnational.com, its owners, directors, officers, employees, affiliates and contractors harmless and to completely release them from any and all liability due to any and all loss (monetary or otherwise), damage (monetary or otherwise), or injury (monetary or otherwise) that you may incur arising out of the use of the information contained on this website/newsletter (including any loss or damage of any sort associated with your use of third party content). You agree that use of this website/newsletter is at your sole risk. moneynewsnational.com disclaims all warranties of any kind, express or implied. If any applicable authority holds any portion of this section to be unenforceable, then liability will be limited to the fullest possible extent permitted by applicable law. moneynewsnational.com encourages readers to invest carefully, and read investor and issuer information available at the websites of the SEC. The SEC has launched an investor-focused website to help you invest wisely and avoid fraud at www.investor.gov and filings made by public companies can be viewed at www.sec.gov . In addition, FINRA has published information at its website on how to invest carefully at www.finra.org/investors/index.htm. Questions regarding any information contained on this website/newsletter may be sent to info@moneynewsnational.com. To review moneynewsnational.com's website and its disclaimer, please visit www.moneynewsnational.com