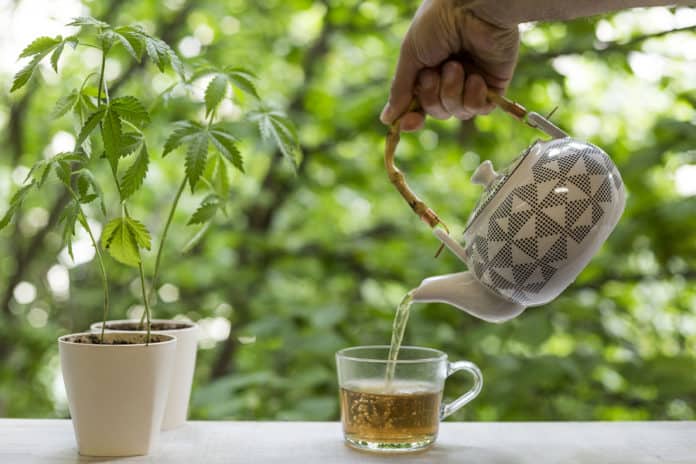 Happy Tea CBD is the latest CBD infused beverage taking the CBD industry by storm. Launched by Fit Tea, the beverage is proving to be a firm favorite for celebrities. Kylie Jenner, Cardi B, and Sarah Palin are the latest high profile personalities to take an interest in the CBD infused tea.
Happy Tea Synergies
Available in Zen Punch, Lemon, and Mixed Berry, Happy Tea contains 10mg of natural hemp extract commonly referred to as cannabidiol. The Happy Tea CBD is proving to be a hit on reports; it has what it takes to ease symptoms associated with anxiety as well as minimize inflammation and alleviate stress.
Happy Tea ability to ensure mental health also continues to trigger strong demand in the market. Fit Tea founder, Michael Gonzalez says he came up with the product as a way of alleviating his own mental and anxiety problems.
Kylie Jenner promoting Happy Tea on her Instagram page all but solidifies it as the next big thing in the highly competitive CBD space. All that the self-made billionaire has touched in the past has turned into gold, waiting to see what her influence on Happy Tea will amount to.
The unveiling of Happy Tea CBD comes at a time when the Food and Drugs administration is yet to provide a clear framework for the regulations of diet supplements containing CBD. In addition to CBD infused beverages, CBD edibles are other products set to take the industry by storm. Without clear-cut regulations, CBD makers can claim their products do almost anything, right from treating Parkinson disease as well as different types of cancer.
 Three Canadian Cannabis Stocks To Watch
Amidst the regulation debacle, Happy Tea CBD underscores the vast opportunities up for grabs in the industry. In return, the sector is proving to be rich in investment opportunities more so in Canada, where the recreational market is expanding by the day.
Choom Holdings Inc. (CNSX: CHOO) is one of the companies providing investors with greater exposure to the country's burgeoning cannabis industry. The company, which is seeking to become the largest CBD retail networks, has been on an offensive. In the recent past, it has acquired Ninetails Cannabis, licensed cannabis retail in Yukon having already opened seven additional cannabis retail locations in British Columbia and Alberta.
Hexo Corp (TSE: HEXO) is another emerging cannabis player making a name for itself in the multi-billion dollar industry. The company has already inked a deal with Molson Coors to develop cannabis-infused beverages. In addition to betting big on CBD beverages, the company has also diversified its product line with investments in gummies and premium vape products.
OrganiGram Holdings Inc. (TSE: OGI) is another exciting pick in Canada's CBD landscape. The company stands out from other cannabis players on the fact that it operates in Canada's Atlantic region under minimal competition. The easternmost provinces provide the company with access to one of the biggest and fastest-growing adult-use market. The company also boasts of sales agreements with all ten provinces a feat that allows it to diversify its sales channels.