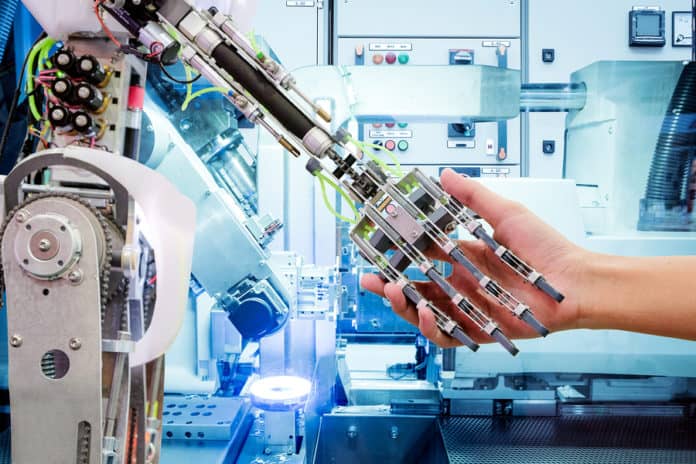 Artificial Intelligence (AI) might be a concept from the 20th Century but it looks like it is just getting started. The concept has grown from being just a buzzword to a real force turning industries inside out. To be sure, one can hardly quantify the future of AI as its applications grow. This article attempts to examine the industry in detail and sheds light on the key segments whose rate of application is growing fast.
From the traditional point of view, AI is an agent of automation. But as enterprises have come to find out, industrial AI goes beyond the ability to automate tasks on the factory floor. As a matter of fact, AI is enabling enterprises to create digital workers who can mimic and perform tasks previously done by humans. This is possible through the combination of AI and AI-assisted technologies like Robotic Process Automation (RPA). 
According to a study Forrester, the RPA segment is growing fast and could reach $2.9 billion by 2021. In general, Forrester predicts that AI will expedite the rate of creation of digital workers such that by yearend 2019, 20% of all interactions at the service desk will be eliminated. This is due to advancements in AI which combine RPA with cognitive systems, and chatbot technologies. 
AI explained
For starters, AI is a computer science term which refers to the ability for machines to display intelligence. Typically, this concept is categorized as human-inspired AI, humanized AI and analytical AI. 
Human-inspired AI has a lot to do with emotional intelligence as well as cognitive elements of intelligence. Machines use this aspect to make decisions in a manner closer to humans. On the other hand, analytical AI entails the ability of machines to utilize learning from past experience to generate cognitive representations of their environment. These representations are then used to inform future decisions. Humanized AI is more focused on the human competencies which make a person human. This includes aspects like self-awareness, self-consciousness and so on, which enable machines to thrive in social settings. 
From the foregoing, it is clear that AI is not just about automation. Instead, the technology is helping to transform industries beyond automation. Notably, AI is divided into segments based on core technology and industry vertical.
In terms of technology, AI is comprised of Machine Learning, Natural Language Processing, Image Processing, and Speech Recognition. On the other hand, industry verticals under AI include Retail, Healthcare, Media & Advertising, Automotive & Transportation, and other sectors like agriculture, education, and so on. 
Pioneer players in the AI industry
As much as AI is leading a revolution in other industries, the technology itself is fast changing. The technology has grown from being just research work in government agencies to a real concept with operational prototypes. Soon AI began to power cybernetics, neural networks and expert systems.
All this time, until the current period, there are companies which have been the first to pursue a certain line of thought concerning AI. Tech giants like IBM, Facebook, Microsoft and Google are some of the companies with pioneering work in AI. Most of this pioneering work concerns virtual assistants. 
But as AI continues to take on new problems, pioneer companies are getting many. In particular, most of these companies are startups pursuing different applications of AI. These are companies which are far much smaller than a behemoth like IBM or even Apple which is using AI to develop Siri. 
In 2018 alone, there were close to 14 AI pioneers, according to the World Economic Forum. These startups rely on machine learning and AI as their core technology. Some of them are:
Comprises two different segments each focused on a specific application of AI. BenevolentTech develops a platform which facilitates innovations. On the other hand, BenevolentBio applies the results of the innovations to impact healthcare via generation of new ideas. Some of the impacts include creation of treatment for rare diseases.
This startup is doing pioneering research in AI, specifically in Image Recognition. The company is working on a solution which enables machines to "see" objects like a human. However, the only difference is that the machine can see physical objects at X-ray, and microscopic levels. 
Founded in 2015, DriveAI uses a range of solutions, coupled with the help of AI to enable cars to drive themselves. Some of the solutions include high definition cameras, sensors and LiDAR. With these elements, an autonomous car should be able to navigate its environment with ease. 
How big is AI today, and where is it headed?
The AI landscape is like a battlefield where different ideas are fighting for recognition. The good thing is that all these ideas are promising and all are growing at breakneck speeds. While this makes the current and future status of AI difficult to quantify, various studies estimate the industry to be huge and growing fast.
AI is more prominent in North America than anywhere else worldwide. Particularly, this region is ahead of the rest for two reasons. One, there is a lot of government support for innovations based on AI. 
Particularly, the government in Canada is committed towards making the country the leader in AI, not just in North America but the world over. Toward this end, the AI Research &Development sector in Canada received close to $1.3 billion between 2016 and 2017. Due to this funding, Montreal boasts the largest number of students and researchers focused on AI. On the other hand, Toronto toped the world, as of 2018, as the leading destination for AI-focused startups. 
The attractiveness of Canada pulled tech giants which are leading in terms of innovations in AI. Particularly, Google splashed $4.5 million in Montreal Institute for Learning Algorithms (MILA) in 2016. The money was intended to further the institution's research efforts in Deep Learning. Other countries which are adopting AI are the US, Japan, China, India and Germany. 
Microsoft, Uber and Amazon are other giants which have set up shop in Canada to collaborate or set up local operations focused on innovations in AI. 
Nonetheless, the Asia-Pacific region could be the largest in terms of revenues generated from AI in the next decade. This is due to the fact that the market is expected to grow at a compounded annual growth rate (CAGR) of 59.4% between 2018 and 2025. 
Given the broad nature of the AI market, it would quite difficult to value it as a whole. Nevertheless, the Robots market of the global artificial intelligence industry was worth $3.24 billion USD in 2018. This one segment of AI which is growing fast and could be huger in 2026, $23.92 billion to be exact. 
Global Artificial Intelligence (AI) Robots Market was valued at $3.24bn in 2018. It is estimated to grow to $23.92bn by 2026. The market is expected to grow at a CAGR of 28.41% from 2019 to 2026.
Which segment of AI is growing fastest?
Like earlier noted, AI is comprised of various elements, each of which are pursued separately. However, some firms are pursuing various segments simultaneously because these segments are, more often than not, complementary. Nevertheless, the machine learning segment is growing the fastest compared to the others.
One area were machine learning is proving invaluable is in the development of smartphone features and smartphone applications (apps). 
For starters, the total number of smartphones sold worldwide in Q1 2019 was 312.9 million, IDC data shows. Compared to the same period the previous year, there is a drop of 5.9% in units sold. This could probably be due to smartphone sale hitting the saturation point. But AI, and machine learning to be precise is coming to the rescue.  
AI has come in as a huge product differentiator in the smartphone market. A Gartner research shows that AI will attract more people into the smartphone market and retain the existing ones. With this background, Newzoo expects smartphone ownership to expand to 3.8 billion around 2021. Notably, 3 billion of these owners will be active users. 
At the center of the re-emergence of smartphones are apps. In 2018, the apps generated only $92.1 billion in revenues. By 2021, this should jump to $139.6 billion, according to Newzoo. These applications are powered by AI since the tech enables developers to understand human behavior and emotions better. As such, developers are able to customize the apps and make them even more appealing to the users. 
Outlook of the AI industry
Clearly, AI is huge and it could rescue smartphones sales from historic decline. But that is not the only bright spot in the AI industry. To be sure, the software segment of AI will grow by 154% in 2019 compared to 2018, Tractica data shows. Notably, the A software market will be worth $14.7 billion USD by yearend 2019. 
Further, McKinsey research shows that the continued use of AI-powered digital workers will displace 400 million human workers before 2030. However, if the adoption of AI accelerates past the current rates, the number of people rendered jobless in the same forecast period should jump to 800 million. 
Additionally, companies like Google, through DeepMind, and Microsoft are focused on applications of AI in healthcare. This is to say that healthcare should be the next huge battleground for AI solutions going forward.