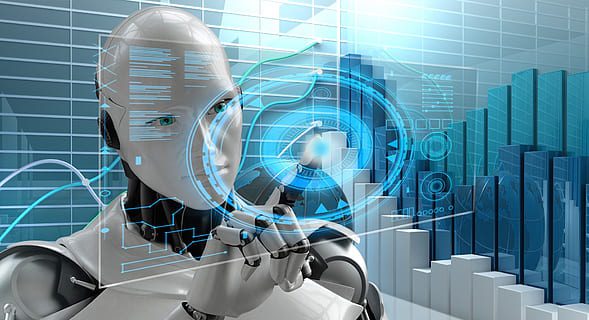 Artificial intelligence (AI) is one of the fast-growing industries in the world today, and there are several Canadian AI stocks already making a name for themselves in the sector. The industry has attracted attention from all sectors, and most companies are investing significantly in AI owing to the promise of bug returns going forward.
Almost every company is now adopting AI, with over 80% of enterprises believing that AI will help them in sustaining or obtaining a competitive advantage. AI is becoming the tech everybody wants to adopt to help them grow profits and compete. Some Canadian AI stocks have already shown potential and taken the lead.
BlackBerry launches BlackBerry Spark Suites
One of the stocks making huge strides in the AI sector is BlackBery Ltd (NYSE:BB) since the company changed into a SaaS company. The company is already making a name for itself in the cybersecurity industry by using AI to protect and detect threats in systems using AI. BlackBerry's exposure to the cybersecurity market is through Cylance, which is an AI solutions company it acquired in 2018.
The company has launched BlackBerry Spark Suites, which aims at providing companies with various personalized endpoints and cybersecurity management options. The solutions will help them in minimizing risk, protecting data as well as reducing complexity and costs. The suites are powered through machine learning, AI, and automation to offer enhanced cyber threat remediation and prevention from Cylance.
CGI among Canadian AI stocks with huge potential
Another Canadian AI stock that is showing massive potential and could even post-coronavirus is CGI Inc. (NYSE:GIB). The company offers IT services to government agencies and large companies helping their clients deploy automation from AI to robotic process automation.
The company offers diverse services with revenue-generating operations from various countries across the globe. The company benefits from its diversification and enjoys stability, growth, and accelerating earnings and sales. For instance, its 5-year ROCE is strong at 16.4%, which is an indication that the company can grow profitably. Similarly, its momentum trend is decent, with the stock gaining 4.02% in the last 12 months, which is an indication that after COVID-19, it will be a strong play.
Kinaxis seeing a surge in usage of its RapidResponse software
Another area drawing massive AI attention is supply chain management, and this is an area Kinaxis Inc. (OTCMKTS:KXSCF) has excelled in. Interestingly there are low overheads with massive upside in this industry that is becoming important to the economy of Canada. The company's clients are big names such as Toyota, Ford, Unilever, and others that use its RapidResponse solution to manage supply chains. Following the coronavirus pandemic, the solution became vital in helping companies track the availability of raw materials, demand, and inventory.
The company has a solid Q1 in which it posted a 15% YoY growth of around $52.8 million in revenue. The use of the RapidResponse software grew by 20% and has continued to grow as the coronavirus ravages the world.