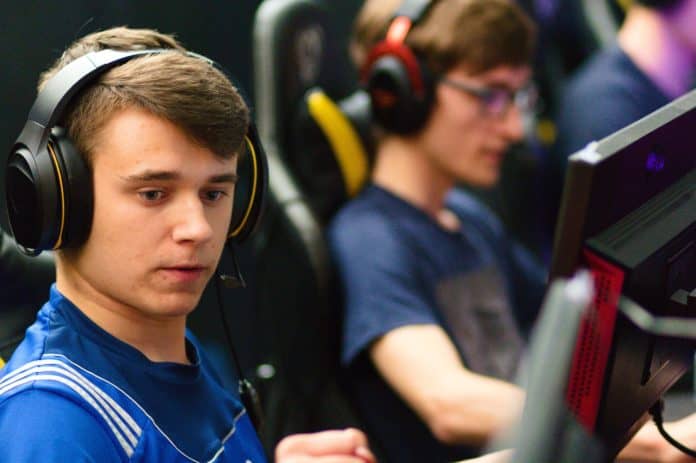 Electronic sports is no longer the domain of jobless or lazy youths trying to have a good time while glued to the screen all day long. ESports has grown to become a multibillion-dollar spectacle providing employment opportunities to thousands of people.
An influx of tech giants such as Google and Amazon into the sector all but validates an industry poised to reach the $1 billion mark in revenues in 2019. As people argue of the lack of new sports inventions over the past decade, eSports vs. traditional sports is the latest debate.
What is eSports?
Simply put, eSports refers to the playing of various video games as a profession. Just as teams and individual athletes battle it out in arenas and fields; eSports professionals spend most of their time behind big screens playing big gaming titles; such as League of Legends for prize money in some instances.
ESports provides gamers an opportunity to capitalize on their past times and talent for a chance to win big prize money while playing video games and watching various video game content. The fact that eSports has grown at a 38% CAGR over the past five years explains the ongoing eSports vs. traditional sports debate.
The exponential growth has seen eSports accelerate the convergence of various industries that, in return, have given rise to new opportunities. Media, tech, and sporting accessory companies are increasingly flocking into the sector, given the huge crowd that eSports continues to attract.
eSports vs. Traditional Sports: Differences
Esports is a native digital phenomenon

eSports is a 'game' whose intellectual property belongs to a company while nobody can claim ownership to a traditional sport 

Streaming makes it possible for professional eSports athletes to make money while traditional athletes make money by signing contracts with teams and playing the actual game in fields

eSports fan bases are not location-specific

Monetization of fan bases in eSports have lower rates compared to traditional sports
eSports vs. Traditional Sports: Viewership
ESports vs. traditional sports have gathered pace in recent years on people taking note of the ripple effect electronic sports is having on the broader gaming industry. While the first eSports competition took place in 1972, it is only recently that the sporting spectacle appears to have taken off, more so when it comes to audience and revenues generated
Thanks to a widespread internet connection as well as mobile devices, eSports global audience has continued to grow. The 16-24 year audience base is the catalyst behind the 38% CAGR fuelling the growth. The global audience is poised to clock record highs of 297 million by 2022.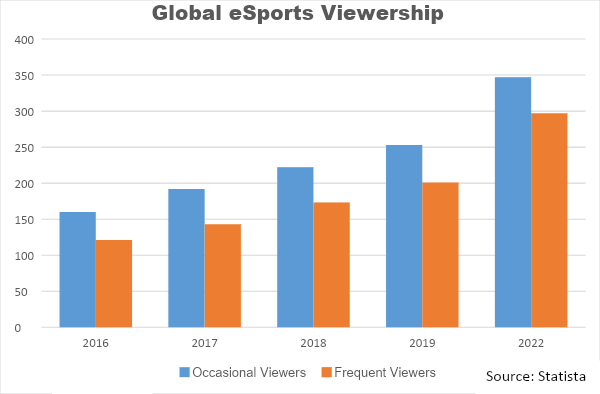 eSports viewership should skyrocket to 644 million by 2022 made up of 297 million eSports enthusiasts and 347 million occasional viewers. It is difficult to pinpoint which video gaming title will account for the biggest audience base. The fact that the video game industry is dynamic means different gaming titles will be a hit at different times.
One of the key areas of focus on the eSports vs. traditional sports debate is the amount of revenues generated by the respective industries. While traditional sports is far ahead, eSports is slowly catching up.
eSports revenues topped highs of $655 million in 2017 before growing to $869 million in 2018. Given the rapid growth, experts expect eSports revenues to top $1 billion mark for the first time in 2019. Revenues are projected to hit record highs of $3 billion by 2022.
The average revenue per fan in 2017 was 3.64. The amount is set to clock highs of $5.20 by 2020.
Viewership in eSports is poised to surpass that of some well-known professional leagues given the convenience that eSports comes with. However, it will take some time before eSports viewership exceeds that of some popular traditional sports. For instance, soccer commands an estimated global following of 4 billion people while cricket commands a fan base of about 2.5 billion people.
The fact that eSports is more popular with the younger demographics means there could be a change in viewership audience going forward. While the older folks remain glued to traditional sports, the young folks are likely to switch their attention and allegiance to eSports.
When it comes to regional consideration, eSports is extremely popular in the Asia Pacific, which boasts of a mature video gaming industry rich in history. However, eSports has started picking pace in the west with America, giving the likes of China and Korea a run for their money.
Technological Advancement Impact on eSports
Technological advancement in the west should play a role in eSports taking the fight to traditional sports in the race for the audience and professional athletes. The fact that over 5 billion people already have mobile devices that can play various mobile games should continue to support the eSports phenomenon. 
Introduction of 5G technology is another important milestone poised to enhance eSports over traditional sports. The ability of people to access video gaming content with ease is one of the catalysts set to fuel the video gaming phenomenon.
ESports is also likely to continue lagging behind when it comes to monetization of the audience base as compared to traditional sports.
eSports vs. Traditional Sports: Prize Money 
Traditional sports stands out on the eSports vs. traditional sports debate when it comes to prize money that athlete walk away with. Sporting events such as American football, basketball, and football are known to offer players contracts worth millions of dollars.
While eSports lag traditional sports on the amount of money that gamers walk away with, it has made impressive strides in recent years. Initially, there was no prize money for people who engaged in eSports. That has changed thanks to the selling of media rights for big eSports tournaments as well as the influx of sponsorship deals for talented eSports athletes.
The prize pool is on the rise as eSports revolution continues to take shape. The Dota 2 International tournament in 2015 set the ball rolling on offering a prize pool of $18 million. In 2016, gamers participating in the International Tournament for DOTA-2 shared $20 million in prize money.
eSports Growth Catalyst
Revenue growth will mostly be driven by the emergence of new opportunities right from live streaming and growth in the player fan base. An influx of brand investments for sponsorship and advertising should also continue to support rapid growth. 
eSports should continue to take the fight to traditional sports on the involvement of big tech companies in the business. Amazon acquiring video streaming site Twitch signals how companies are increasingly taking an interest in eSports. The acquisitions allow the e-commerce giant to tap into the growing audience that is mostly made up of Millennials.
Google is another company that is maintaining a keen interest in eSports as it also seeks to gain access to Millennials to fuel its advertising business. The search giant has already unveiled a cloud gaming service dubbed Stadia, expected to participate in the live streaming of eSports tournaments.
Big brands such as Nike are also signing sponsorship and endorsement deals with eSports athletes as part of a marketing strategy of their brands.
Tech and media companies are not the only ones behind eSports growing popularity over traditional sports. Football clubs have also taken an interest in the spectacle. English premier league club Manchester City has already started signing FIFA stars playing the virtual game. French Football club Paris Saint Germaine has also signed a number of eSports professionals specializing in different games such as League of Legends. 
The signing up of eSports athletes by big teams is an admission that digital gaming will be a major attraction able to pull the masses going forward. Football clubs have also turned to eSports as part of a marketing strategy on the admission that the video games have the potential to raise their profile. 
eSports vs. traditional sports: The Future
eSports vs. traditional sports can only continue to gather pace as bigger advertising budgets find their way into the eSports sector. An influx of financial investments into leagues as well as teams should continue to support the rapid growth of the eSports industry.
The proliferation of game streaming services should take the eSports culture to all corners of the world, a move that could have a significant impact on traditional sports audience. The global audience base mostly made up of millennial should continue to excite big brands looking to sell their goods and service to this base.
In addition, eSports should continue to compete with big leagues, given the audience that most tournaments draw. Passionate fans complimented by billion-dollar revenues underscores why eSports vs. traditional sports debate is just but starting and can only continue to take flight
As eSports is poised to make maiden entry into the Asian Games in 2022, there is already talk that they could also gain full Olympic status soon. Such a milestone would affirm eSports mainstream status. 
eSports vs. traditional sports debate is here to stay as new technologies capable of supporting and fuelling video gaming come into effect. While traditional sports will continue to garner eyeballs, eSports should continue to appeal to the younger demographic.