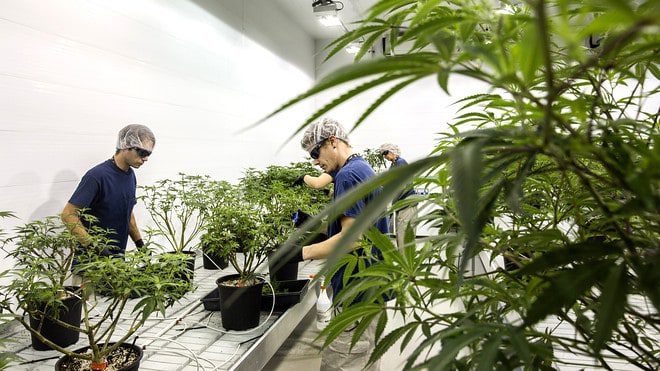 Following the coronavirus outbreak, various countries have imposed measures such as locking all non-essential businesses and restricting the movement of people to combat spread. However, for the Canadian cannabis business, they are still operating as usual as the government considers them essential services. Most of the Canadian governments have permitted cannabis stores to continue operations during this COVID-19 crisis which is good news for cannabis stocks.
The move by provincial governments to allow adults-use cannabis businesses to operate has given cannabis companies a lifeline in an industry that was already grappling with challenges. Health Canada regulates cannabis production in the country but it is the provincial governments that are responsible for recreational licensing and some have taken steps to let the businesses go on.
Presence in eastern provinces to benefit OrganiGram
However, amid all this, some pot stocks are poised to survive the coronavirus crisis. One of the companies well positioned is to overcome the coronavirus crush is OrganiGram Holdings (NASDAQ: OGI). The Canadian cannabis grower has competitive and operational advantages over its peers considering it has wholesale agreements across all provinces in Canada. It is the main grower in the eastern Atlantic province where adult-use cannabis rates are higher compared top national average
Since the company has only one growing facility it will be able to redirect its capital and expenses more effectively than peers. Its three-tiered cultivation helps it to produce almost triple per square foot than its peers.
Canopy had already started showing positive signs before COVID-19
Equally Canopy Growth (NYSE: CGC) appears to be well-positioned for a rebound from the coronavirus crisis in the second half because of its cash position. The company has cash of around  $1.6 billion which will enable it to survive up to three months of slow demand.
In the company's recent results Canopy demonstrated signs of a turnaround before the crisis. In Q3 the company posted a narrower adjusted loss and reverse dwindling revenue trends. Equally with Constellation Brands' (NYSE: STZ) CFO David Klein expected to take over the helm at Canopy he will ensure they exercise financial discipline and thus putting it in a path to profitability.
Cronos Group has the cash to invest after the crisis
Another company that has deep pockets to enable it to survive the crisis is Cronos Group (NASDAQ: CRON). The company has $1.4 billion in investments and cash which gives it the muscle to survive slowing demand because of COVID-19. Cronos does not stare at insolvency at the moment or in the near future.
The massive resources give Cronos the capacity to strategically invest in various growth opportunities after the crisis. This capacity will enable the stock to take advantage of building demand in Canada expected in the second half and then pave a path for growth going forward.
Bottom line
Although the coronavirus has greatly impacted markets by slowing supply chains, affecting tourism and leading to the cancellation of cannabis trade shows these three Canadian cannabis stocks are in aa better position to emerge from this crisis unscathed.